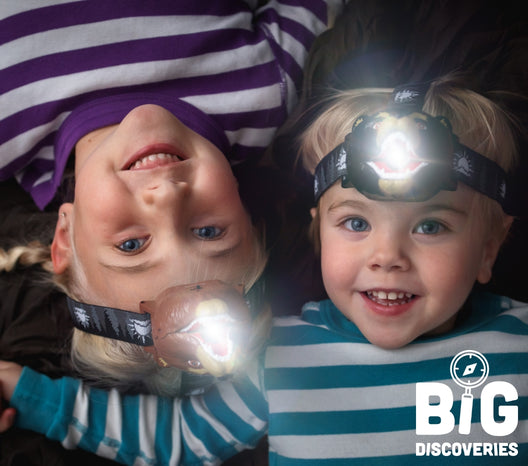 Wondering Where Our Kids' Gear Went?
Kids are important. Here at Sun Co, we wanted to give kids their own space to explore and grow, so we created Big Discoveries for parents like you who want everything in one place. You can browse for essentials, gifts, and anything you need to encourage a sense of curiosity and a love for the outdoors.

Find all of your old favorites plus new innovations that you can shop for exclusively on Big Discoveries. You can expect the same Sun Co quality with the added bonus of fun for everyone in your family.
Here are all the
products that have moved
LifeLight Animal Carabiner Flashlight

WildLight Animal Carabiner Flashlight

DinoBryte Dinosaur LED Headlamp

Bear Headlamps LED Bear Headlamps

WildLight Headband Headlamp LED Headlamp w/ Fleece Headband

WildLife Compass Animal Compass With Lanyard

WildLife Zip-o-gage Kid's Thermometer & UV Meter

WildLife Therm-o-compass Kid's Compass/Thermometer & UV Meter

GoGear Belt Pack

Forest Friendz Belt Packs

Binox Kid's Binoculars

RoarBottle Dinosaur Water Bottle

Camping with Sasquatch Family-Friendly Card Game
SHOP BIG DISCOVERIES
Have questions? Contact us!